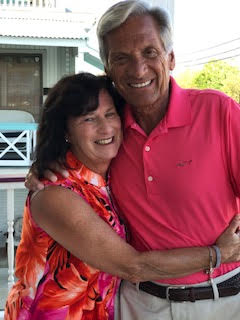 Joe had a special place in his heart for Gina Ciaccia, the Abraham House, and its mission for several years prior to it becoming our home in his final days. 

By the end of June 2020, due to COVID restrictions, Joe had spent about 10 weeks alone in a hospital room unable to eat, speak, or have any physical contact with those he loved. We arrived at the Rome house on July 1 where we were finally able to be with family and dear friends constantly at his side – he did not have to spend one more minute alone. We had meals together, spent countless hours on the front porch, in the living room, and at his bedside reminiscing and reconnecting – bringing back long forgotten memories spanning more than 60 years! 

Probably our most special memory was being gathered at Joe's bedside with our granddaughter gently playing the guitar and singing "Here Comes the Sun." We were not even sure he was aware of our presence until at the end of the song I whispered in his ear, "Wasn't that beautiful?" and he raised his hands, put them together and softly applauded her. During a time of such great sadness, seeing this beautiful gesture gave us a combined sense of joy, peace, and comfort. I think that was the moment we all realized we were exactly where we were meant to be, and we all would be fine.
Cathy Basi & The Basi Family