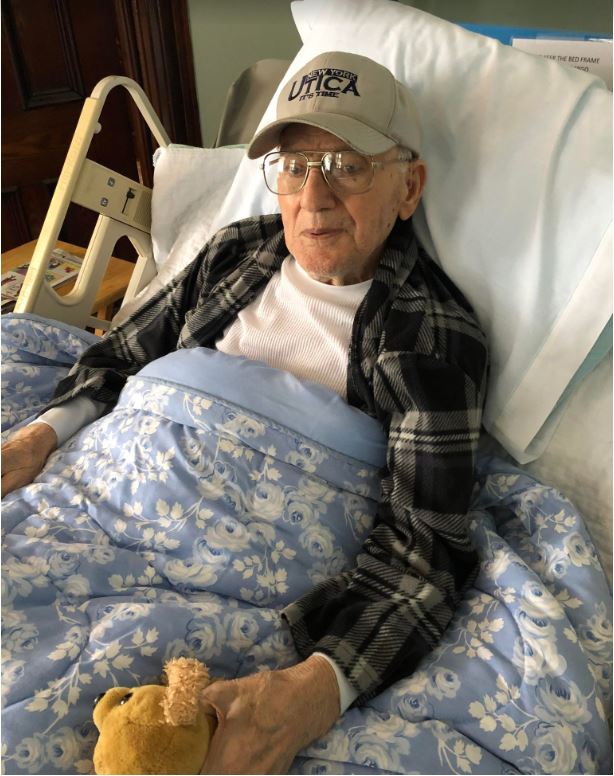 When my dad walked into Abraham House, none of us knew what to expect. As far as we knew he was still doing okay, moved a little slower but was alert and capable of doing everything himself. We would visit him and play cards, say prayers, or just talk. There were no signs of him struggling, in fact we all thought he'd be coming home with us in a months time. Then all of a sudden he'd be telling us stories about dreams he was having. He was speaking to his family and friends that have passed away, real conversations in his mind so we knew something has changed.
Then one morning, I got there and he was eating breakfast and the nurse told me he was real antsy, he could hardly speak. He said he was ready to go home but before he did he needed to do some things first. It was tough watching him struggle so I asked him if he wanted to go back to his room and he said yes. So I get him into his bed and he tells me to get his favorite hat off the shelf, I asked him why and he said he was going home. I gave him his hat and he fell to sleep.
He slept for two days thus allowing all of his family to come in and be with him and say goodbye. The staff at Abraham House was so respectful of our situation, we had upwards to 25 family members in the room and waiting area. Finally, the last night, just me and my brothers stayed the night in his room. We watched him sleep, so peaceful. Towards morning his breathing changed, and we knew the time was near. The nurses came in and checked on him throughout the night knowing that it was close.
As the sun came up and it hit his face he took his final breath with his four boys with him. No one wants to see a parent pass away but my dads passing was beautiful. I can't thank the staff at Abraham House enough for the love and passion they showed for my dad. It made his passing easier for us knowing he was in the hands of loving and professional people.
My dad lived a long life, a beautiful life surrounded by people he loved, and it was only fitting that he passed away so peacefully.
Mello Testa & The Testa Family